Central NJ's #1 Indie Bike Shop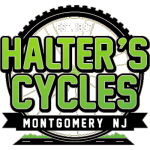 Halter's Cycles, has been serving the Central New Jersey cycling community since 1987. They stock a huge selection of road, mountain, and hybrid bikes from top-rated brands like Cannondale, Santa Cruz, Felt, Haro, Masi, Surly, and Kona. Staffed by avid cyclists and top-notch mechanics—they know their stuff.
Halter's website wasn't mobile-friendly, easy to update, search-engine optimized, and it wasn't generating the web and foot traffic it once had.
Halter's Cycles' owner, Jason Fenton, is deeply invested in the NJ cycling community. The trail-steward at Central NJ's Six Mile Run mountain-biking trails, he has worked diligently to form a vital partnership between the State Park there at Six Mile Run and the Jersey Off-Road Bicycling Association (JORBA). He also acts on the Board of Directors of the NJ Chapter of the National Interscholastic Cycling Association (NICA) and sponsors the races held every year at Six Mile Run.
Like Many Small Businesses
Mr. Fenton does a lot of his own marketing. He actively maintains his social media channels on Facebook, Instagram, and Twitter and manages very responsive Google My Business and Yelp accounts. When he's not in the shop, on the trails, or with his family, he's often found on online forums offering advice and encouragement to bicycle enthusiasts of all ages, skill-levels, and preferences. In short, he understands the importance of his digital footprint and works incredibly hard to ensure Halter's Cycles' brand stands for something bigger than just another place that sells bikes.
Facing stiff competition from online retailers Halter's is always looking for cost-effective ways to stand out in a crowded marketplace.
As many bicycle shops around the country are squeezed by online retailers Mr. Fenton wanted to reinvigorate the energy around the shop's brand and bring new customers in the door.